GPS Position:   North 43.2097270  East  02.443599700
Visited Trebes in Sept 2008, one of the better Aires we have visited. Can get busy even in late Sept so best to try and arrive by early afternoon.   Coming from coast turn immediately left after crossing bridge.  Aire along canal bank.
Update: This Aire has since closed.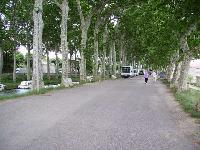 Attractions Nearby:       Canal du Midi and cycling along the tow path into Carcassonne                                                   (12k)  Good fresh fish shop in village and there is a local market at                                             the end of the Aire every Friday. Selection of restaurants within                                              50 yds, 3 supermarkets within 500 yds, take aways, veg etc.                                                      Excellent fun sitting with glass of wine watching the "Brits" trying                                              to navigate the locks…
Cost per 24hrs:           Free