We made our now usual trip to Cornwall to meet up with Janet and John however this time it was somewhat different since we moved North earlier this year so linked it in with a visit to friends in Devon.
We split the trip into 3 locations as we needed to visit friends in both Torbay and Exeter.  The journey south was uneventful however it still took us over 6 hours towing our caravan and we had booked into the Ramslade CC site near Stoke Gabriel as the Hillhead site was fully booked.  Stoke Gabriel is a lovely peaceful village on the river Dart and was our base for 4 nights while we visited Rob and Max and Margaret B.  We had a great day out with Margaret and had lunch at one of our old favorite haunts – The Breakwater at Brixham even though the weather tried to spoil it for us with one or two heavy showers.  The seafood salad here is excellent value.  We had 2 days out with Rob and Max visiting Cotehele for the first time – very impressive and well worth a visit.
We spent the second day doing a walk from Dartington Hall to Staverton where we had lunch at the Sea Trout Inn and watched the Dart Valley Steam trains run by.  The weather was kind on both days out – very warm and sunny.
We had booked in to Prattshayes Campsite in Exmouth – a site we had stayed at several times over the years (even though they still owed us money from 4 years ago when they cancelled our booking due to flooding) – and were looking forward to the relaxing location with access via the Maer Lane road to the sea front at Exmouth.  We were very disappointed to discover that it appears to have changed hands and is no longer associated with the National Trust.  Sadly the change has not been for the better in our opinion.  The facilities, while never a strong point, were decidedly jaded and the small reception/ice cream shop have gone and while there is now a converted barn used as a bar and coffee shop it was closed during our brief stay.  The web site offers new functions – mainly focusing on watersports and offers caravans for hire and the only ones we could see were very run down units that were badly in need of repair.  We had hoped to stay there 4 nights however after the first day we became surrounded by a group of young people who moved into these same dilapidated caravans and were out for a good time with drinking from morning till dusk.
We felt uncomfortable with the frequent intrusion of these people looking through our van windows and looking into our awning.  The final straw came when one male vomited outside our caravan so we packed up and moved on to the CC site at the Exeter racecourse on Haldon Hill.  We completed our visits by meeting up with Ann and Adrian (who witnessed our neighbours bad behavior at Prattshayes and were concerned about our welfare), From the Racecourse site we were still able to meet Diana and Jeremy for lunch and then move off to Exmouth to see Chris and Roy.  Our final meal consisted of homemade fresh crab sandwiches from Exmouth.  We hadn't realised that that weekend was the Devon County Show so moving out to Haldon Hill might have saved us a bit of time waiting to get through the traffic jams that usually occur at the County Show.
We set off on the Friday morning for a pleasant run down into Cornwall staying at the camping and fishing site at Gwinear.  This is a new to us site and very pleasant.  The site was smart and clean with excellent hard standings. (even easy to knock awning pegs into – take note CC )  It would have been full marks had the new toilet block been completed however the owners apologised as they had been plagued with bad weather over winter and the completion date had slipped from March to June.  We will certainly consider Gwinear in future.  Traditionally l we have stayed at Cottage Farm however they were closed due to re-structuring and downsizing. We spent 5 lovely days in Cornwall visiting old haunts and new with glorious weather thrown in.  We managed to fit in a walk from Kynance Cove to the Lizard and detoured via Goonhilly (what is going on there??),
We revisited Trelissick Gardens and Mylor Quay.  We revisited Minnack Theatre and promised ourselves that next time we would time it to see a production.  We went to Sennen Cove and walked to Lands End with its views of Bishops Rock Lighthouse.  There were more people on the walk than appeared to be visiting the Lands End Theme Park.
On the last day we did a walk around the peninsular at Padstow – a walk we have done before but wanted to do again as it gives great views of Padstow, Rock and the estuary.  This was followed by a visit to Fistral Beach with fish and chips at Rick Steins restaurant.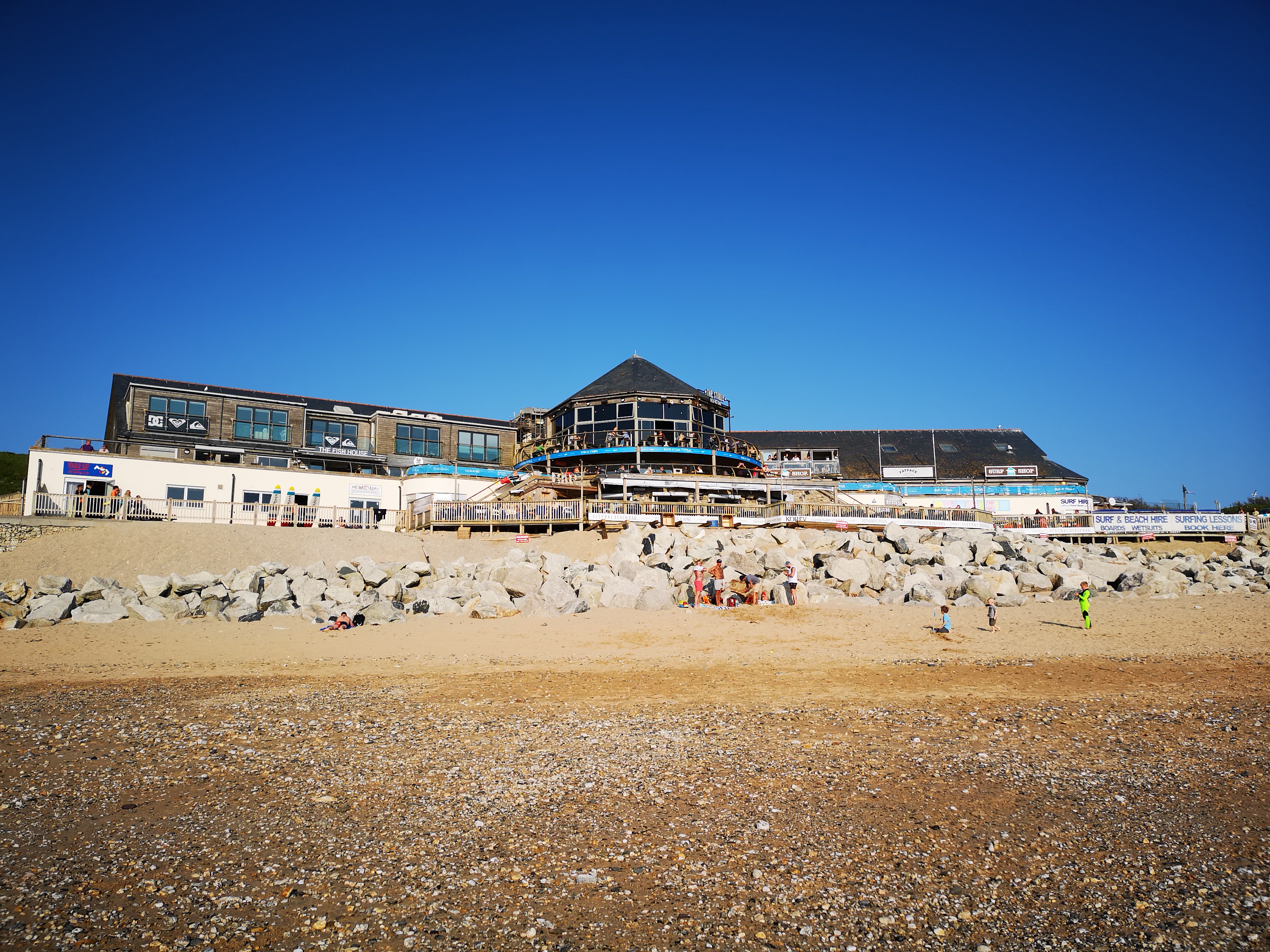 The trip home was long but uneventful taking just over 8 hours – not far off the time we took from Roscoff to Carcassonne.