GPS Position:  North 43.566306  East 04.1860485
There are 3 Aires here at Aigues Morte the first on the way into town by the InterMarche, one by the city walls and one by the canal.  The canal is no longer the most popular and is barrier controlled opened by credit card (not all UK issued cards work) with excellent views of old city walls at night.  Caution there is a steep road around 500mtrs before Aire and can be difficult for MH's with long rear overhangs.  The most popular is the city walls area – see other entry.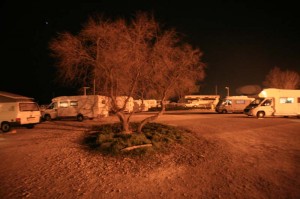 Attractions Nearby:  The old city is well worth a visit with great views out towards the sea.  Markets on Sunday morning and walks round the city walls and boat trips.
Cost per 24hrs:        €12  in 2010