Apart from a quick couple of trips to visit friends or attend weddings we hadn't returned to Devon for a proper break for almost 10 years so when our friends suggested meeting up in Cubert outside Newquay for a few days we decided to add this on to our 2011 list of trips.  The idea was to combine a week in Cornwall with a week in Exmouth, Devon our last place of residence.  We left home and made the journey down to Cubert in one go, stopping only for a bite of lunch at the Motorway service area south of Birmingham.  We had booked into the Camping and Caravan Club CS at Cubert as it appeared to be the closest to where our friends were staying in their static van.  The site was basic but well looked after with a clean toilet block with showers.  All with a sea view if you stood on top of the camper or walked to the far edge of the sloping field.  Very quiet and secluded spot with the village a short walk away.  We certainly would use it again.
We met up with our friends Janet and John and using their car we drove the short distance to Crantock and spent a couple of hours walking on the beach and around the cliff tops before returning to their static where Janet had prepared a dinner for us.  It was a good start for us as the sunset was fabulous with no wind or cloud and set the scene for what turned out to be a week of very settled weather.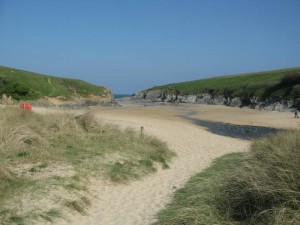 Crantock Beach
The beach at Crantock is very picturesque and brought back memories of times when we used to bring our son here back in the early eighties and the year one April when the snow forced us to return home early.
Over the next 5 days we travelled around Cornwall visiting old haunts and new.  We had forgotten how good Cornwall is and trips to the Lizard, Coverack, Penzance, St Ives and Padstow really brought home to us what the UK still has to offer.    All trips to Padstow should include at least one visit to the Rick Stein fish and chip restaurant – just to say you have "done it".  I must say that for Cornwall the fish and chips were very good but no better than many of the Northern counties offerings however they do fall short of the quality of emporiums such as the Whaler at Wetherby or the Magpie at Whitby.   We had spent many a day at Coverack staying with farming friends Barry and Ann Richards during the 80's and early 90's and it was at Coverack that I caught my first fish – a Pollock – landed on the boat of another friend of ours, Ben Roskilin, who had a fishing boat in the harbour and we used to go out in his boat to fish.
Coverack Harbour
The only disappointment during the week was found at Goonhilly Earth station.  We wanted to take our friends there as we had such fond memories of Goonhilly when we last visited in the 1980's and had been impressed with the British technology and fascination of the visitors centre.   The fact that you could look all around at the equipment, screens and marvel at the sights and sounds of the universe.  All gone.  The place was derelict and overgrown.  The visitors centre was boarded up with most of the sat dishes having been dismantled – however one dish near to the visitors centre – the original antenna – remained standing.   This dish, called Arthur, is now a listed building thankfully.
Arthur at Goonhilly Earth Station
Arthur was designated Antenna 1 and erected in 1962 weighing in at 1100 tons with a reflector diameter of 25.9 metres.  It is such a shame that the visitors centre could not have been kept open as Goonhilly Earth Station is as much a part of our history as the castles and churches of the middle ages.  Goonhilly was leading edge technology during the 1960's leading the world in communications and deserved a place in our history.  We were fortunate during a visit here in the 70's to have been shown around the whole site by the husband of a friend who held a senior position.  We were stunned by the sounds and sights that Goonhilly were picking up from distant stars.  Very sad that these places have now gone and future generations will not see how the British led the way in pioneering space communications before other countries took over.
Walking along the cliffs from the National Trust car park to the Lizard Lighthouse must be one of the nicest walks on that coastline.  With views out to sea, gorgeous coves and bird strewn outcrops and isolated private beaches, this coastline is well worth a visit.
Coast Path to Lizard Lighthouse
We met up with several bird watchers at Lizard Lighthouse all photographing the Chuffs that had returned to UK.   The lighthouse was our halfway point so we stopped for lunch, had a good look around before re-tracing our footsteps back to the car.  We had forgotten how far we had walked and were quite tired by the time we got back.  Well worth it though.
National Trust Glendurgan
The lost gardens of Glendurgan on the Helford river now a National Trust site were in full bloom and we spent a full day walking through the gardens and along the coast path.  You can also visit the Trebah Gardens next door.  By the time we had walked around Glendurgan we had walked enough so left Trebah for another day.  We did manage a walk from Mylor along the coast towards Falmouth giving us a wonderful view across the river into Falmouth town and docks.
Our week in Cornwall was over all too quickly and we had to say our farewell to our friends and head off to Exmouth our old stomping ground for 30 years.   We stayed on the National Trust camp site Prathayes near Orcombe Point.  The site is some 400 mtrs back from the beach on Maer Lane.
Walking on the Coast Path
Sadly on our drive to Exmouth we received a phone call to inform us of the sudden death of my long time friend and mentor John Bugbee.  John had been on our list of friends to visit during our week in Devon.  I taught John to fly in the 1980's in return for his teaching me the skills of sailing, insisting that I learnt the hard way.  By that I mean no electronic navigational equipment – just a plumb line, Sextant and hand bearing compass.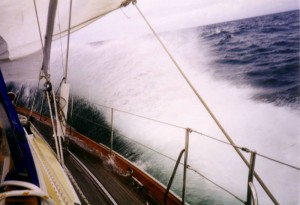 Sailing across the Atlantic
John had been involved in sailing most of his life and it was strange at first to see that having obtained his pilots license, he decided to take up gliding.  On reflection maybe it was in his nature as  John hated using engines and we have spent many hours wallowing in the entrance to harbours as John refused to start the engine after the wind had dropped.   Over the following years John, then in his 70's competed in many gliding competitions earning awards for reaching heights of over 25,000 feet and travelling over 200 miles in a glider.  It was only in 2010 that John returned to sailing and bought is first boat in the autumn of that year.  It is so sad that he never got the chance to sail it and I never had the chance to meet up with him before he died.
Over the past 30 years John and I had sailed the seas, competed in RORC offshore races, delivered many boats for others.  John helped me survey my own boat when we bought it from Moody's.  He spent hundreds of hours helping get her ready for sea and he covered my ships wheel with Elk hide finished off with a Turks Head knot on top – I was really proud of that wheel.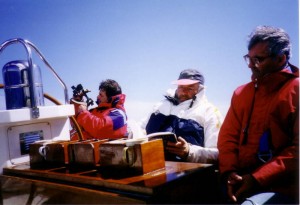 On Watch 
From left to right – Pete, John & Norman in the middle of the Atlantic.  In 1986 John and I travelled to Antigua to survey and buy Korsar, a 60 foot Mystic then with a crew including a mutual friend, Norman Harwood  we sailed from Antigua across the Atlantic to Malta calling at the Azores and Villamoora in Portugal.
Together we flew in aeronautical competitions all around Europe.  When I bought a Cessna C402B,  John and Ted encouraged me to enter the International Air Rally of Malta.  With John as navigator and me at the controls, Ted King as co-pilot and David Blair as passenger we won all sections of the 1986 Malta Air Rally including the prize of Overall Winner – The Maltese Falcon.  The first time a British team had won all sections in the same competition.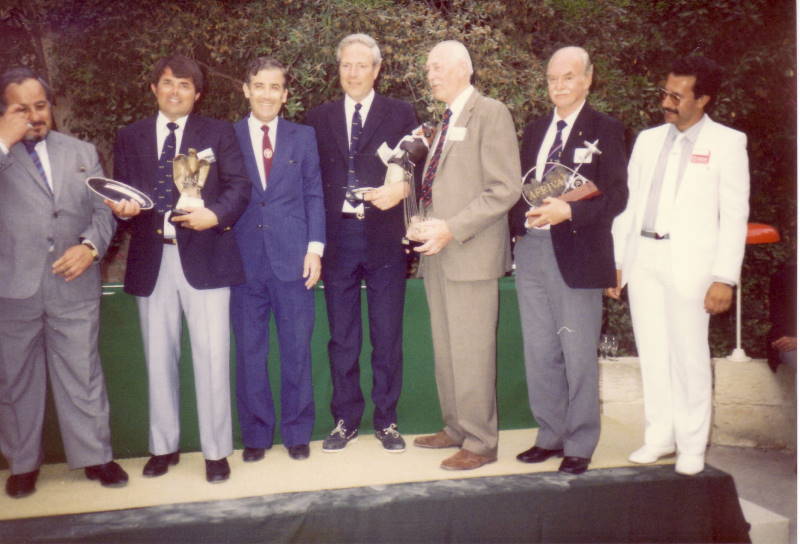 Our week at Exmouth passed very quickly and with the news of John's death we did not meet up with all our friends as planned – still a reason to visit the area again in 2012.   – John will be greatly missed.
We returned home in time to host a party for Annette's god mother – Josie – her 95th birthday.  We celebrated with a BBQ in the garden.