Model – Hymer B614SL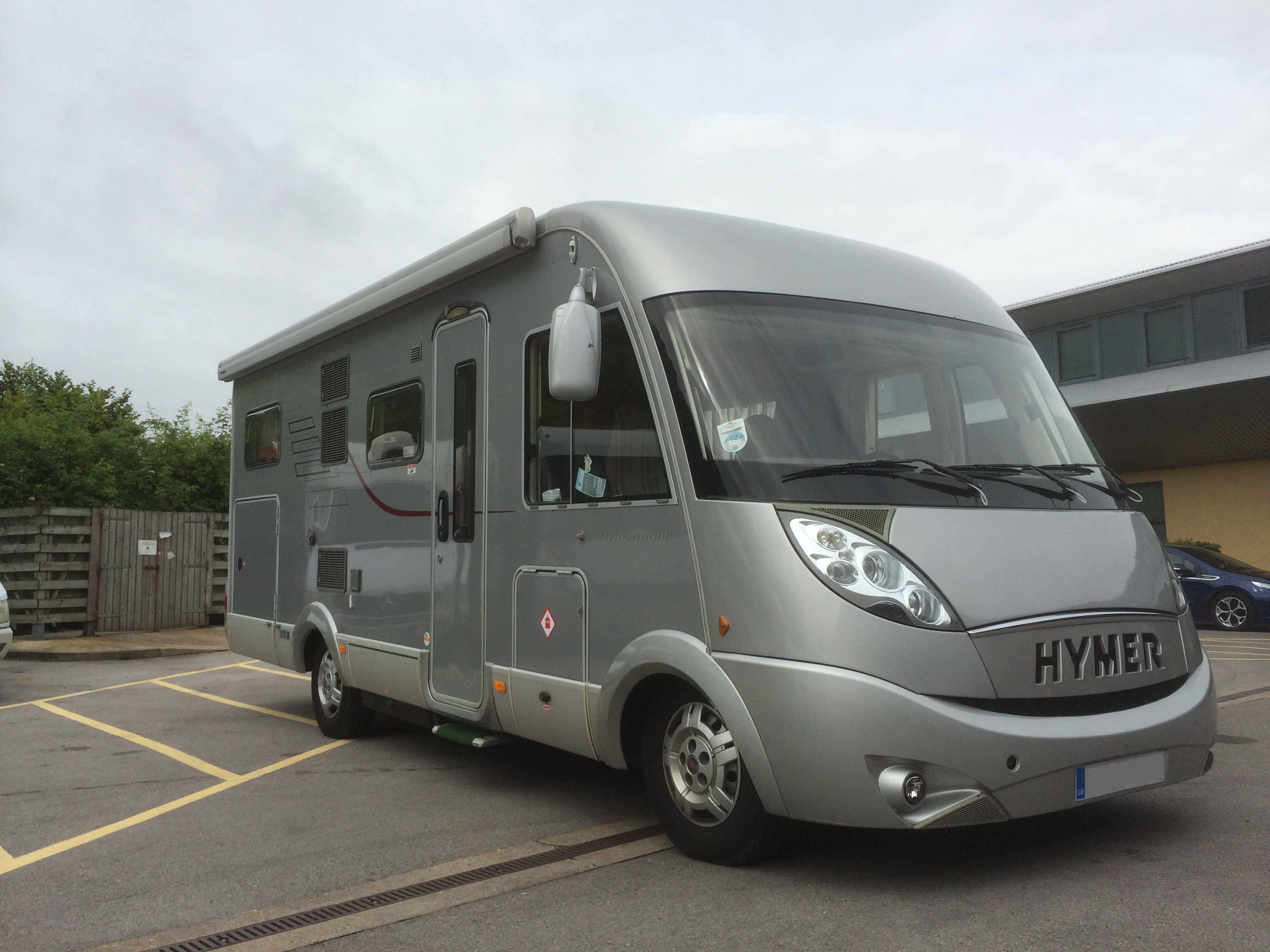 Our new camper is a Hymer B614 SL  built on the Fiat chassis with the help of the Alko rear extension.  It has the transverse rear double over a very large garage.  There is a separate bathroom with toilet and shower to the right with the Tech Tower fridge/freezer to the left next to the sink unit.  This particular model has the oven below the hob instead of above the freezer.  It has a traditional L-shaped lounge with swivel front seats and drop down double over the front.  This example has the Hartal habitation door with an added deadlock.  It is left hand drive with a drivers door also with a dead lock..Front screen blinds, side blinds.  Fly screens and blinds to all windows.   We were quite pleased with the "steering wheel on the wrong side" as we spend over 90% of our time on the continent. The internal bike rack is perfect for our electric bikes and keeps them safe out of harms way while still leaving loads of room for other items.  I was surprised to discover that there is no spare wheel but has a portable inflater system that inflates the tyre as a "get you home" measure.  I guess this helps keep down the weight and improves the payload.  I may purchase a spare wheel and tyre if my concerns continue.  In the meantime I will make good use of the spare wheel well space.
Chassis:     Fiat Ducato Heavy 40        GVW 4000kgs                 Seated Belts 4
Steering      Lefthand Drive                     Engine 3.0Ltr Diesel
Mileage:       34000                                 Gearbox 6 speed manual
Standard Specification
Full Tec fridge with separate Freezer 150 ltrs.  Smev grill and oven with rotisserie with central locking kitchen units Separate washroom and shower with Thetford electric flush toilet.  Drop down front double bed with built in ladder.  Large rear garage.  Gas locker with space for two 11kg bottles.  Electric step with alarm reminder if down.  Three skirt lockers and triple wipers.  Truma combi gas and electric water and blown air heating.  Double floor technology with fresh and waste water tanks built inside.  Fresh water capacity 110 ltrs, Waste capacity 90 ltrs.  Heki skilights over rear bed, lounge and bathroom.  Cab aircon.  Cruise control.
Extras Factory Fitted
Hartal habitation door with window and three point locking.
Drivers door
3.0 ltr engine upgrade
Second garage door
Deluxe control panel
Cab Air Conditioning
Smev Oven and Grill
Cruise Control
Dealer fitted extras
Gaslow system with 2 x 11kg bottles and auto changeover valve
Rear view camera
Alden satallite receiver and 85cm dish
Sterling Battery to Battery charger
Sterling 1800W Inverter with auto switchover
Strikeback Alarm system with interior and exterior door alert
15 in Avtex freeview TV
Additional leisure battery
Internal garage bike rack
5 mtr Thule Awning
Battery Master
Deadlocks to habitation and Door
Front silver screens
First trip out and impressions
Our first trip out wasn't actually a roaring success as it rained heavily the whole time.  We did discover a couple of faults though.  First when on inverter the wiring is such that it feeds into an automatic changeover switch  that senses where the power is coming from.  So far so good, unfortunately the way it was wired means the inverter gets its power from the batteries and then uses this same power to supply the charger to charge the same batteries it is taking power from. Not good so a simple change in the wiring resolved the problem.   Second problem the sat dish couldn't find a satellite now that may be a simple update required or more serious.  The jury is out on that.  The bathroom is a tad on the small side but something we will have to get used to.  Finally the economy doesn't appear to be as good as expected with around 25 mpg recorded on a relatively short run.  This may improve over a longer run.  Otherwise quite pleased.  The Hymer is much more agile than the Flair although the gearing means that sixth is more of an overdrive than an extra gear.