Over the years we have observed other camper van owners methods and oddities – at least to us they appeared odd yet I guess the owners had good reasons.
Mobile kitchens
When in Spain in 2010 we spent a week or so on the Spanish camper van parking place at  Peniscola.  We were joined there by a German couple that had a Hymer S820 towing a large box trailer.  We expected to see a fair sized car inside the trailer so was surprised to see that it contained a relatively small scooter/moped.  What was odd to us was the interior of the trailer was decked out as a fitted kitchen, complete with cooker, fridge, sink, work surfaces and cupboards.  There was also fresh and waste water tanks inside the trailer.  Every day they prepared and cooked breakfast, lunch and evening meals inside the trailer, taking them out on plates into the camper van to eat.  Then all the washing up etc. was done in the trailer.  They didn't cook or prepare anything inside the Hymer.  While I guess it kept any food smells etc. outside the camper it did seem odd to us that they should tow a large box trailer just for cooking and storing their scooter.
Self Builds
While in the German Black Forest region in 2009 we came across a guy that had built his own camper van.  He was very proud of his creation and was pleased to give us a tour round it.
We were very impressed with the strength and practicality of the vehicle.  The owner said it was fully winterised and that he had driven to the Arctic circle and wintered there without any problems.  It had started life as a fire engine during WW2.
Another self build we came across at Fontaine de Vaucluse that was not so well finished off however what had been completed certainly looked solid.  The owner said he had not had time to complete the inside yet but was taking a rest to try it out.  This was also an ex fire engine.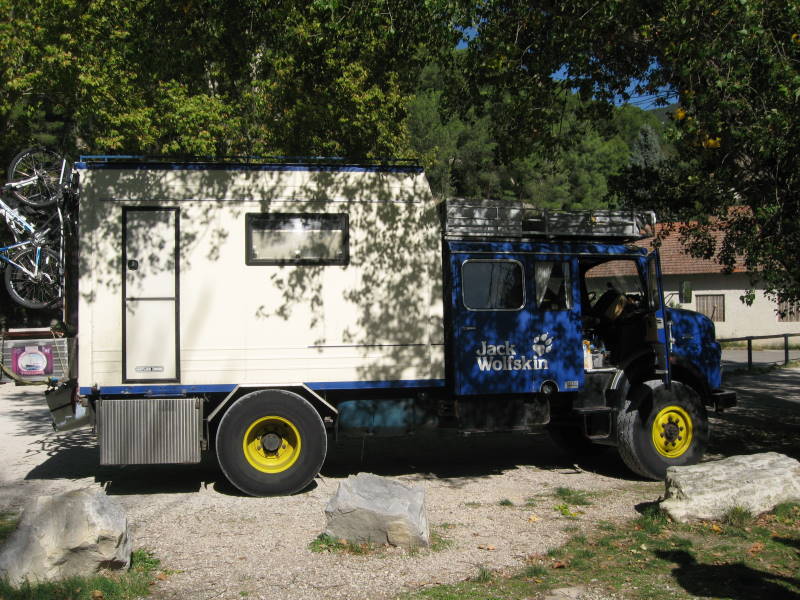 Another self-build we came across in La Palaises in Central France was a conversion from a WW2 German Army vehicle done by a couple in their sixties after they had lived in a variety of camper vans over the years and decided to make one of their own.  The biggest problem that we could see was having to use a ladder to reach the one and only door.  Given that his wife appeared rather frail it looked a massive task to climb up to get inside.  He admitted that in this case it had been an ambitious task and after two years had decided to "take it as it was", get some use out of it before it was "too late"  Good luck to them.
Converted Trailer
While parked on a municipal site at Strasbourg we were joined by a team of tourists that were travelling around in a coach, a 52 seater coach.  They were all pensioners touring around enjoying the Alsace region.  The oddity was that they towed behind them a converted trailer.  The company sold weekly tours and everyone slept in the trailer at night.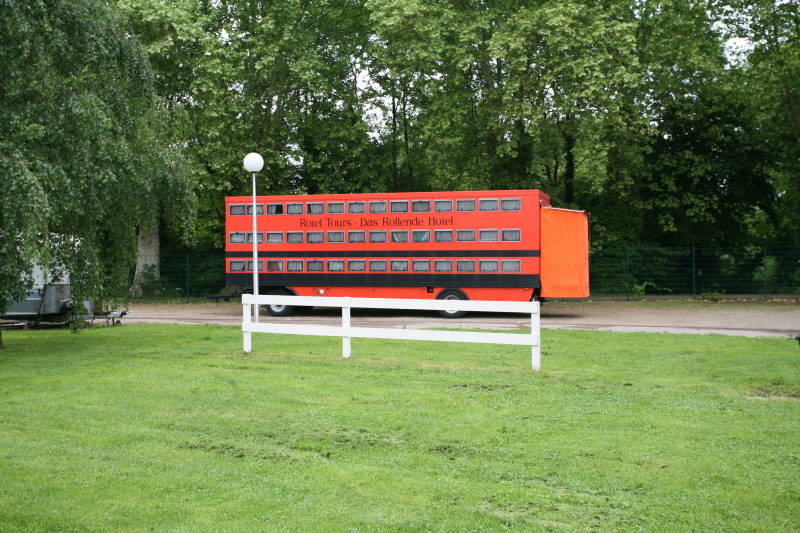 There was a corridor down the middle with three stories of bunk rooms on each side.  Some bunk rooms had twin bunks while others had singles.  The basement of the bus carried all the tables and chairs, BBQ fridge and food and their cases were carried on the back of the trailer  in a shelved box affair.  They would erect a large gazebo and they would cook under this and eat on smaller tables arranged around the gazebo.  Presumably if it rained they would either erect other gazebo's or eat inside the coach.  This particular party consisted of what looked like pensioners and I was disappointed at not being able to see some of them climb up the ladders into their bunk at night…… They certainly seemed happy.  We first met up with this bus/trailer company in July 2008 and lo and behold we met up again in September 2012 at Carcassonne – they are still going strong and obviously get around.
More Conversions – During our trip to Morocco in 2013 we noticed another German conversion, parked (or should I say wedged) in between palm trees at the SOurce Bleu Oassis