GPS Position:  North 43.927316 East 02.1424520
Parking area only below the cathedral.  Pretty busy area as parking is on dedicated place amid the general parking of the town.  Enter carpark and continue down to lower levels until you see the dedicated motorhome area.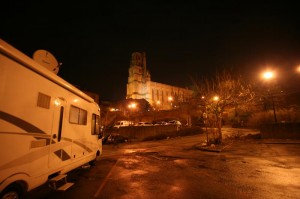 Attractions Nearby:  Albi is famous for its red brick buildings and the cathedral is worth a visit.  Nice city centre.  Pretty hilly for cycling.
Cost per 24hrs:        Free