It has been a few years since our last foray into electric bikes and to be fair a lot has happened since then.  New companies have entered the market and battery technology has come along in leaps and bounds.  We have been using our standard bikes more and more over the years however age and failing health is taking its toll and even the slightest hill looks like Mount Everest.  So we have decided to research this mode of transport again (but will be much more diligent than last time out).
Well after asking lots of questions and getting bogged down with some controversial answers, not to mention ruffling a few feathers along the way we finally managed to create  a shortlist of possible bikes.     Before I go into the bikes themselves I should lay out my rationale for choosing these bikes and hope this will assist other potential e-bikers in helping them make up their mind on what/which to go for.
First of all we considered the type of riding we do and our riding location(s), We don't leap off up mountain trails but mainly poodle along cycle tracks, tow paths or urban trips to town shopping so a full suspension mountain bike would not be required.   Then I looked at weight/age and fitness levels to assess the position/type of power/torque needed. Even though we ride the same routes it was obvious from the start that we both needed different bikes as our weights are not the same.(not even close)  We made note of reliability and problems mentioned by users on various Bike forums in general then arrived at a rather long "shortlist" Sadly I then had to sort the bikes out by price range and inevitably cross off all the ones we liked as they were too expensive and way above our budget. This left us with a very shortlist of two or three which I attempted to drill down on in detail. Unfortunately this led to an adjustment in both budget and expectations as the bike didn't have everything we wanted for our price point. So back to the drawing board.
There are literally hundreds of e-Bikes around – each manufacturer favouring front, centre or rear motor driven and as expected everyone has their own preference. I decided, based on reviews and comments on the Pedelecs forum, that a centre crank drive motor was the one for me as they delivered higher torque, however my wife being much lighter a hub motor would be suitable. This made one bike a lot easier to buy as their are far more hub models than crank models.  So bike weight, range and gears helped to narrow down the list even further.  We steered clear of the cheaper brands having been "burnt before" and in my opinion they looked cheap and nasty in comparison to the quality brands and decided that a good quality secondhand bike would suffice for our needs.  The Nexus hub gear system appealed as it was easier to operate and more reliable than the derailer type.  This pretty much sorted one bike out.
As I mentioned earlier batteries have come a long way and output, charging cycles even size as well as technology as made impressive improvements over recent years.  At the end of the day owners are really only interested in one thing – range.  How far can I go on a single charge of the battery.  It gives the manufacturers a real headache as there are too many variables – rider weight, riding style (fast or slow), type of terrain (how many hills) which power setting do you use etc.  My rule of thumb answer is to half the claimed range and you won't be far off.
Next I had to decide on the make of motor – there are again many different manufacturers – mainly split into Chinese, European (Bosch Impulse), Japanese (Yamaha or Panasonic). Bosch complicate things even more by producing three types of crank drive – Active, Performance or Speed. I decided in my case that I preferred either Bosch or Yamaha as they appeared more integrated than many of the Chinese models. Now I'm really starting to narrow down the choice. I preferred the Bosch set up as it looked more professionally integrated however the torque on the Bosch Active appeared a little low on power. I therefore eliminated all Bosch Active line motors. The Bosch Performance and Yamaha motors have very similar output but again not straight forward. The Bosch has more flexibility, is fitted by over 50 manufacturers and can be updated by the dealer and has a better LCD display. On the downside it is considerably more expensive. Yamaha is less flexible, the display looks more flimsy, can't be updated and only fitted by one or two manufacturers in Europe but is cheaper.
Eventually I ended up with three or four bikes that suited, so that left me with the task of deciding which one and where I ran into most trouble with my fellow bikers. I was surprised to discover how limited bike warranties are in comparison with say a motor car warranty. Also it seems that Bike dealers look after their own customers very well but still could charge labour on any warranty work. Non customers would certainly have trouble with any warranty work. This played a large part of my deliberations as it was clear that any problems would have to be paid for one way or another. Another problem was where to buy. Do you delve into the eBay world of second hand with all its risks or do you stick to the authorised dealer network and buy new (or s/h through them). Again this was where I was at odds with my fellow bikers. Now the sensible thing to do would be to test ride each one to make sure all your deliberations were valid and you feel comfortable riding it. Now for me that wasn't too practical as all the ones I had shortlisted were either not in stock or located some 100+ miles away. I tried all the ones I thought would be close in ride and style and that would have to do for now.
In the end I decided on the Haibike Trekking RC with Yamaha motor as it was significantly less expensive than the Bosch Performance offerings yet had all the "extras" such as lights, mudguards and a stand that I wanted. The Yamaha on paper has the most torque and several owners commented that the zero cadence came in instantly.
Next was where to buy them. Again I came under the hammer from fellow Pedelec members who shunned the likes of eBay or purchasing from European dealers in favour of "paying full price or close to full price" at local dealers, so got to thinking that maybe they are right and I would have to up my price budget again.
Then I thought hang on a minute….
On these dealer admissions I may have to pay labour on any possible repair work.
I don't live near to any of these dealers anyway so any work would incur significant travelling costs
In general buying from Germany is considerably cheaper than UK as bikes are the same price numerically however with the £ v € exchange of €1.40 – there is a significant difference off the bat.  Then I discovered that German retailers are open to "negotiation" and discounts of 20% can be had.
So I purchased a secondhand Giant Freedom Twist CS Lite and a Haibike Trekking from a German dealer and saved a small fortune.   Now in my book I can get a whole heap of work done for the money we saved and as a retired aircraft engineer I may be able to do some maintenance work myself.  If we are really lucky we may not have any breakdowns and can use the savings on meals out.
Now how are we working out some weeks after our purchase.  Well good and bad.  First the bad.  The Haibike was packed and sent from Germany however between the carriers (one German and one UK) the package was damaged so badly that the carriers held it at the UK warehouse for "investigation" and finally sent back to Germany.  This presented a massive problem for me as the bike was in effect a secondhand bike and now I am waiting to see what happens as the dealer has sent me "another bike"  It is scheduled to be delivered in early July.  See below for part 2
The Giant on the other hand is an absolute cracker.  The quality is superb and it shows.  The Nexus gears are great, easy to change whether pedaling or not.  Without doubt we made the right choice regarding pedalec or hand throttle.  Its just great – the more you pedal the more assistance you get.  We haven't needed to use the "turbo mode" as the assistance given on "normal mode" is just fine.  It is a fairly heavy machine but we haven't had to carry it yet.  The battery is proving extremely good.  Given that we reckon it is about 5 years old so far it is holding its charge well.  The control unit displays 5 LED's to show full to empty.we can travel 16 miles before one LED goes out so on that basis I reckon we should get at least 30 miles between charges.  The paniers are proving very useful as is the substantial stand.  Very pleased so far.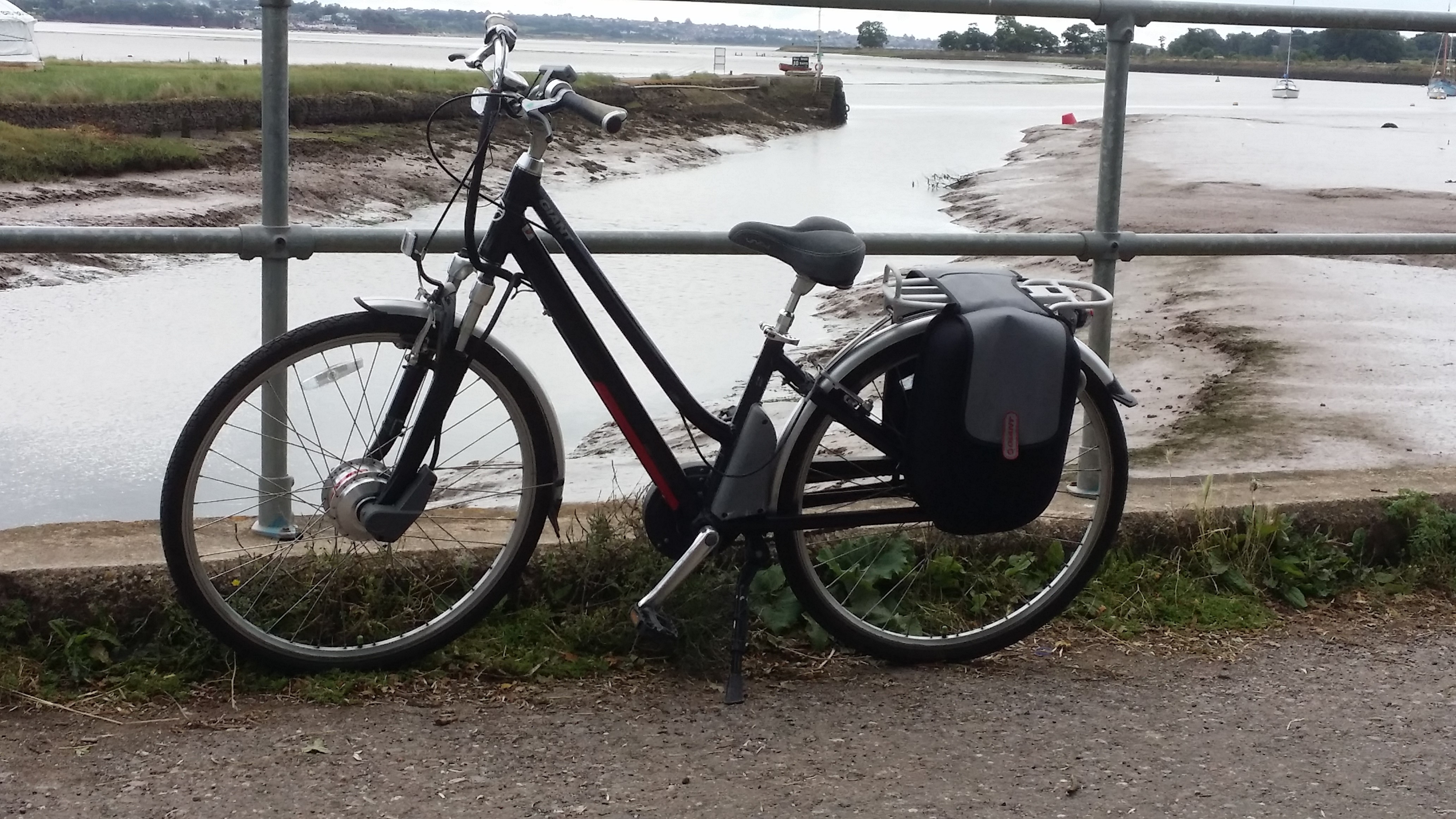 The Haibike arrived on 3rd July and extremely pleased with it.  The Yamaha crank drive is wonderful.  Loads of torque at the start and climbs hills effortlessly.  The ride is a bit different from my old MTB (a Viper FX2.0 with full suspension) maybe because it is a larger frame with larger wheels and cross tyres however after a mile or two I soon got used to it.  The seat though will have to go.  I changed the original Viper seat as I couldn't get used to the pointy thin seat that seems to be the norm on all bikes these days.  I'm built for comfort so a change on the Haibike is due.  The gears are a dream – very precise and positive with very little drama.  The Trekking has a 10 gear rear and a 2 ring front.  When riding there is little need to change at all as the Yamaha has plenty of power to cope with all but the steepest of hills.  The display does indicate that when riding uphill without changing down the power used is much higher so I guess that would translate into fewer miles per battery charge.
My first outing was a relatively flat 20 mile ride at an average speed of 10.5mph.  (that was an increase of 4.5mph achieved over the same route on the Viper) from roughly the same effort on my part The battery level showed a drop of 3 bars out or 10 and the remaining distance available showed an encouraging 30 miles left.  If I can get 40 miles between charges I will be well pleased.  I had thought about getting a speed dongle but can't see the need so I will shelve that thought for now.
Pros:
1. Extremely well made when compared to other makes I looked at.
2. Yamaha motor appears much more powerful that the Bosch (torque wise)
3. Walking mode is a bonus and allows me to ride without pedalling up to 6kph
4. Built in lighting very effective
5. Great brakes – hydraulic and positive
6. Battery recharges very quickly
Cons:
1.  Saddle is too narrow for my rear end
2. Tyres not a forgiving as wider MTB tyres
3. Very nickable so need to watch carefully when parked
4. LCD screen while providing lots of info doesn't look as durable as the Bosch unit
Overall I'm over the moon with the Haibike and so far very impressed.  I would recommend this to anyone looking for a general use bike.  Buying from Germany – absolutely – I saved a small fortune and the retailer was very good.  All documentation is in English, The manufacturer so far has been responsive when I asked questions.  Only downside may happen if I get any warranty problems.
5 Months on:
Well we have been using our ebikes all over the summer and took them on our autumn holiday to France where they proved extremely useful.  We covered approximately 150 miles and pleased to report all was well with no problems.  Well no problems if you don't count "self inflicted problems" We experienced a lock up of the chain on the Giant but quickly discovered that the pannier strap had come undone and caught between the sprocket and chain.  A quick re-fasten followed by a shortening of the webbing solved the problem in no time.  The Giant battery is starting to loose its charge a little more quickly now however we are still getting over 30 miles between charges.  The Haibike is still giving over 50 miles but that can drop to around 30 miles if used heavily.  The lights on the Treking are brilliant and are similar to motorbike or scooter lights with a good spread and powerful beam  All in all we remain very pleased with our purchases.