GPS Position:  North 45.05042597 East  03.884128332138
Stopped here in Oct 2012 – excellent place for visiting the town. Aire very well laid out. Toilet block very clean, 6 campers there during our visit. There is an overflow area across the road that can accommodate a further 4 camper vans but you have to exit to the right, then around the roundabout to get there.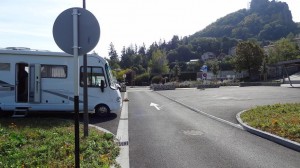 Attractions Nearby: Once you arrive at entrance to St Michaels church you have 396 steps to church entrance – not for the faint hearted. Old town of Le Puy-en-Velay well worth a visit. Lots of folk demonstrating the old ways of lace industry and a very nice cathedral.
Cost per 24hrs:        Free