There has been a lot of discussion about the safety and purpose of Aires, Stellplatz or Sostas verses "proper campsites".   First and foremost – each to their own and what suits one doesn't necessarily suit another.  That's life and long may it continue.  What I do get miffed about is when folks knock something when they have never even tried.  Even worse is when they start quoting bad experiences about something they have never experienced first hand.  It always comes down to "I know a friend who" or "I read in a magazine that or a friend of my friend was attacked" and nothing that they have actually seen for themselves.
Myth – Let's start here – The most famous myth of all is the gas attack where anyone who parks on an Aire will get  gassed and robbed while sleeping in their beds.  Or if not gassed they will certainly get robbed by East Europeans.  These are usually raised by folks that think Aires are motorway service areas in France.  Wrong, wrong and again wrong.  Just think about it – what would be the cost of filling a motorhome with anaesthetic gas to render the occupants unconcious (they all agree that nobody has died yet)  Remember they would also have know where all the exit holes were and block them up,  know exactly where to put the hose in etc.  After all we wouldn't want these thieves to accidently gas themselves would we.
Anaesthetists spend years training to do their jobs and yet some gangster can turn up and do the job with five minutes experience.   There was an article published by one of the heads of the Royal College of Surgeons where in answer to the question of gassing in motorhomes, it was said that the cost of the gas alone would be several hundred pounds and in their opinion would be impractical to do.  Insurance companies would be inserting clauses excluding staying the night on Aires (or campsites for that matter)
The police have no recorded incidents of gassing either.  So its a complete myth.
Muggings on the other hand and break-ins sadly do happen.  They can happen anywhere in ordinary car parks even on campsites.  Guarding against it or minimising the risk comes down to common sense really.  We never park our car, bike or camper at a place that we don't feel happy about.  If we don't like the feel or atmosphere of a place and it isn't lit at night we move on.
Aire de Camping Cars – Let's continue with a clear understanding of an Aire.  The word Aire is a shortening of the words used to describe the French "Communal Aire de Camping Car Stationment."  Thoughout France many local communities have created parking facilities exclusively for Camping Cars (the French term for a Motorhome) There are over 5000 all over France.  They range from a basic area where camping cars are allowed to park overnight for a maximum of 24/48/72hrs to areas that can accommodate over 100 camping cars.  Many of them are free, many of them charge a small fee.  Most include facilities where camping cars can empty waste water, empty their WC's and top up with fresh water.  Some even provide FREE electricity.  Some are lit up at night.  Rarely is the charge greater than €10 except in the real touristy area at high season – such as the Cote D'Azure in August we have come across one site – Marineland at Antibes where the charge is €24.   Some of them are protected by fences with barriered or gated entrances, some are on open ground, some are on beaches and some are alongside rivers or canals.   Many are located in the centre of villages or towns throughout France.
Pictured here is the service point at Montlucon: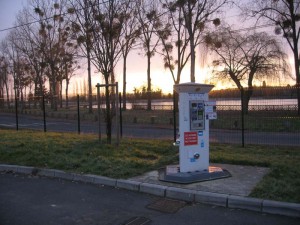 The French local communities take a view that it brings trade to the village while keeping camping cars in a collective area and preventing obstructions throughout the village.  The length of time you are allowed to stay is limited and this prevents the place being overrun by squatters or illegal immigrants.  The fees, where applicable are collected by the local police, local council workers or by ticket machines.  Where electricity is offered and charged then it is also possible to find machines that take credit cards.  As I say though there are local communities that provide free electricity.   This  photo shows the gates, lighting and fence at Montlucon.
Aire de Service –  These are simply facilities provided by local communities to allow camping cars to empty waste water, empty WC cassettes and take on fresh water.  Most are small towers that are either free, coin or "Jeton" operated where a fee is charged for the Jeton, usually obtained from the Tourist Information Office or Marie (Town Hall)  Some are basic with a hole in the ground and a tap on the wall.  These Aire de Service can be located in the town square, by the side of the road or more often co-located in the parking area.  When an Aire de Service is advertised it usually does not include overnight parking facilities.
Aire de Service – Autoroute – These are the service areas found on motorways throughout France similar to motorway service areas found in UK, Germany, Switzerland, Austria and Italy.  As in all countries these are used by all types of vehicles from cars, trucks, motorbikes, caravans and motorhomes.  These are not Aire de Camping Car Stationment areas.    Because they are open to everyone with a clear exit etc. these are the ones that some folk believe are less safe than either a camp site or compound.  .  To some extent I would agree, particularly if you are the only one parked.  However if you are parked and surrounded by a dozen or more fellow motor homers then we, depending on circumstances would be prepared to accept the position.  We would never decide to park on a Auto route service area from early evening until the following morning, nor would we park on an Auto route service area where we were on our own.  There has been the occasional time when we have been driving late and pulled into a motorway service area after 10pm and parked near to the services with others and stayed the night, leaving early in the morning but these have been exceptions rather than the norm.
France Passion  – In France there are also parking areas offered by wine growers, small businesses or farmers.  These are part of a group called "France Passion" and you pay for membership of the France Passion club.  (around £25 per year)  This membership allows you to stay overnight for 24 hrs at any of the sites listed in the booklet for free.  Again there are several thousand France Passion sites all over France.  Most don't have facilities and have only room for 3 or 4 camping cars but you are made welcome and it is a great way to discover rural France.  There is no obligation to purchase wine or goods however it is an expected courtesy to say hello and goodbye.   We have used France Passion sites, tasted wines and been very impressed and we have occasionally bought wine.
Tip:  If, after tasting, you like a particular wine and have an empty water bottle (or two) handy you can use these bottles to fill up with wine from the barrel much cheaper than buying a bottle of wine – simples.
Stellplatz  These are the German equivalent to the French Aires de Camping Car Stationment.  They tend to be more structured than Aires, though not always and they are more uniform in price and there are fewer actually free.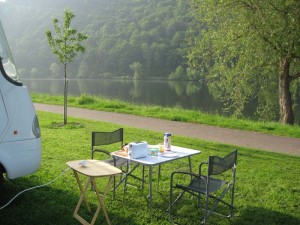 Mehring Stellplatz on the Mosel
They are mainly around the €5 to €8 per night with extras such as electricity.   Stellplatz look more like campsites in many ways and can offer toilets, restaurants, even shower blocks.  Quite often services are included in the price however occasionally there could be a charge for bulk fresh water.
When looking at a map of Germany then Stellplatz tend to be located more in the tourist areas, for example along the Mosel, Rhine, Black Forest  or Bavaria, whereas the French Aires are more evenly spread out.  Stellplatz tend to have more EHU points and it is quite normal for local tradesmen, bakers, fish merchants, grocers or even ice cream vans to visit the Stellplatz each morning (or afternoon) to offer their goods.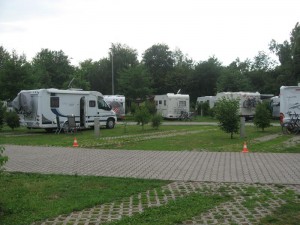 Minheim Stellplatz
In fact the French tourist areas appear to have fewer Aires than other areas.   There are over over 5000 Stellplatz located throughout Germany and there are usually fewer restrictions than in France.   For example – in France many of the town centre Aires do not allow awnings to be opened and the French Aires can at times offer tight spaces that don't give room to sit out with your deck chair and BBQ.   The German sites almost always allow more room and deploying awnings, BBQ's and chairs are encouraged.  So far we have not come across a Stellplatz that imposes a time limit.  Stellplatz also cater for large camper vans (8 + mtrs) whereas the French Aires tend to cater for vans around 6 or 7 mtrs.
Sostas   These are the Italian equivalent to the French and German offerings however they differ fundamentally in that the Italians allow camping cars AND caravans to use Sostas whereas the French and Germans do not allow caravans.   There are fewer Sostas in Italy than France with only a few free ones.  The standards do vary a lot from simple carparks to enclosed compounds with fences and security cameras.  They still represent good value for money at around €10 per night.  You may find you need to pay for "protection" in the southern half of Italy.  The attendant may ask you to pay him to watch over your camper while you are out sight seeing.  However in most cases he will depart promptly at 5pm on his moped and you are left to your own devices over night……
Wild Camping Spots
There are thousands of places throughout France, even a few in UK, where you are allowed to park overnight.  These are places on beaches, in woods, on moors or in mountains that are typically miles from anywhere (though not eclusively so)
Pie Manson Plage
They do not have any facilities but allow camping car owners to explore areas that are off the normal tourist routes.  An example of this is Pie Mansion Plage in the Camargue.  This is a beach several hundred yards long right by the sea on one side and the Camargue Etangs (lakes) on the other.  You can swim in the sea, explore the wildlife, take photos of the thousands of pink Flamingos, wild horses etc. all without being harrassed by other members of the public.
In conclusion – My view is this – We have not used any campsite facilities (other than toilets and showers) such as swiming pools, bars, restaurants or the various activities sometimes offered since our son stopped accompanying us on holidays over 18 years ago.  We tend to go out and enjoy the local offerings of cafe's, restaurants or bars.  So I kinda resent paying for things we don't use.  partularly in UK where, for example, we are obliged to pay for electricity on Caravan Club sites that we haven't needed for over 4 years.  More importantly we now travel around for some 120+ days every year and if we did that by using campsites all the time we would seriously increase and exceed our annual holiday budget.  We use campsites when they are conveniently located near to places we want to visit.  If we have a choice of an Aire or campsite in a particular town or village then we would use Aires every time.
As I say each to their own and our way wouldn't suit everyone.  Look at the Map of Motorhome Sites and you will see a mixture but most of them in France are Aires.