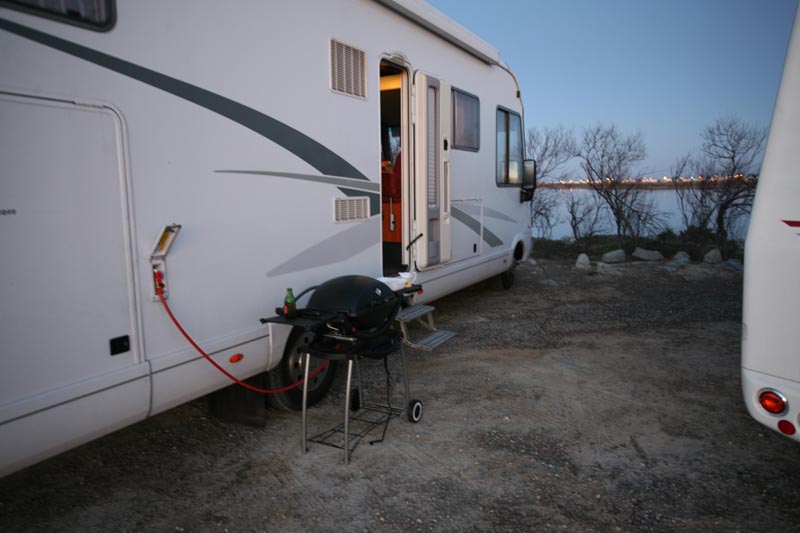 We have a 2006 model Niesmann Bischoff Flair 8000iL based on the Iveco Daily chassis.  The layout is a rear transverse fixed bed with a dropdown from double.  There is a long L shaped lounge with centre kitchen and full length washroom.  We carry a Piaggio MP3 scooter for sighting trips and this also allows us to take our two bicycles with us all fitting very neatly inside the rear garage.
We have 4 solar panels giving us a total of 434W that keep us self sufficient all year round feeding into 5 batteries with a total of 650AH.   We have 2 underslung LPG tanks with a total volume of 170ltrs   We carry 200 plus ltrs of fresh water that helps keep us totally independent of campsites for up to 10 days at a time (depending on the number of showers we take….)
Summer Trip 2011
This summer we left home on Friday 27th May to start off on our annual summer holiday.  This time was a little different as first we made a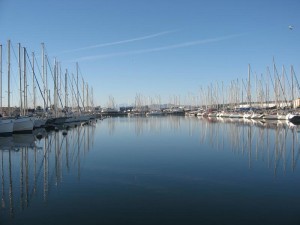 detour to attend the wedding ceremony of Annette's long standing friend Chris and her husband Dave, who live in Cooksbridge near Lewes.
We stayed in Cooksbridge until Tuesday 31st May and then caught the 16.00hrs ferry to Calais.  After a quick stop at Auchan to stock up with a few essentials and fuel we set off to get a few miles under our belt before stopping for the night.
We had chosen to stop at the Aire at Tournai but on arrival we found there was a fairground resident at the Aire so we had to move on.  By now the time was getting late and we knew from experience that campsites are closed after 10pm and there is a severe shortage of Aires in that area.  We decided to continue along the Belgian motorway towards Namur and stopped on one of the motorway service areas on the A15.  Not ideal as we don't like stopping overnight on motorway Aires, however it was fairly full with truckers and we can set the alarm when inside and unlike a caravan we don't need to get out, raise legs etc. and transfer to the car.
We made an early start and arrived at Trier by lunch time on Wednesday where we stayed for 5 days to relax and try and see the area more fully than on previous visits.
Trier
Trier has a lot to offer and has a very interesting history.  From the old Roman amphitheater, Roman baths to the impressive Porta Negra.  A 3+ storey building built some 2000 years ago without the use of any cement.  The stones are simply locked together by weight and have stood the test of time.  The town square is impressive and comes alive during the day with market stalls, street vendors and, in summer, entertainers.
Day One