Each to their own – a statement I keep on saying.  In my mind there are two types of camper van owners.  There are those that fully embrace the motorhome and its differences and there are those that maybe started out with caravans and migrated on to Motorhomes but don't appear to utilise the differences in a Motorhome.  From a transportation point of view (that's all we are discussing here – not the differences in functionality) it is clear in my mind – caravan owners love to park their caravans and use the towing vehicle as a means of transport to sight see around the areas they visit.   Some Motorhome owners don't want to "cross the bridge" as they value the flexibility of getting around without uping sticks so to speak and driving into town with the camper van.  These folks either tow a car (and I'm not getting into the argument of A frames verses trailers) or carry a motorbike.  The rest use their camper vans as modes of transport and carry bicycles in or on the back of the camper.  From the outset I didn't want to tow a car as that seems to me to be putting the cart before the horse.    You might as well stick with a caravan.  Don't get me wrong I can see the advantages but why go the additional expense of buying a camper van then buying a car to be towed behind it.  Many camper van owners primary car is too big or heavy to be towed behind the camper van so they end up buying a small Smart car or similar – all adding to the overall cost of a holiday – insurance, road tax, servicing, extra ferry cost, lower fuel consumption and even additional fees on some sites.  Not to mention being excluded from some Aires where space is a premium and reversing is problematical.    There are several alternative ways to address this issue so here is how we overcame the problem.
We started off some 40 years ago with caravans and twenty years ago made the transition to a camper van.   I must say for us we struggled initially to get used to not having transport to get around.  These days we are not beachy folk like many of our friends so wherever we visit we like to look around the area rather than relax on the beach.   This became apparent when we were assessing the viability of a camper van in the first place.  Using the last trip in our caravan when we travelled to the South of France we realised that we had travelled 1200 miles to get there, then travelled 1400 miles driving around the area and 1200 miles home – Much of the mileage travelling around while the caravan was parked up was returning to base each evening.    Over these 20 years we have chopped and changed trying to find the best solution – that suits us.  We started by carrying two bicycles but ran out of puff when we reached a hill or two.   I then bought a couple of electric bicycles off Ebay (I know so don't go on about it).  These electric bikes were a complete disaster.  But before a get inundated with angry campers just let me say – it was all my own silly fault.  I learnt a valuable lesson here and thankfully was able to put them back on Ebay and got my money back.
Electric bicycles can be a brilliant form of transport under the right circumstances so a little more just to set the record straight.  Like all things complex, electric bikes need plenty of thought.  My mistake was to believe that electric bikes were all the same and I didn't consider weight, power, size of wheels, gears, frame size and being able to get back to the camper when the battery goes down.  The bikes I bought were heavy, (over 30kgs each) had small wheels, no gears, 180W motors and took 8 hours to re-charge when flat.  They were almost impossible to pedal when the power gave up.   Today's offering have different modes to assit you – all power, assisted power and no power.  But my eBay purchases were cheap.  Moral here – you get what you pay for.
Our folding very heavy electric bikes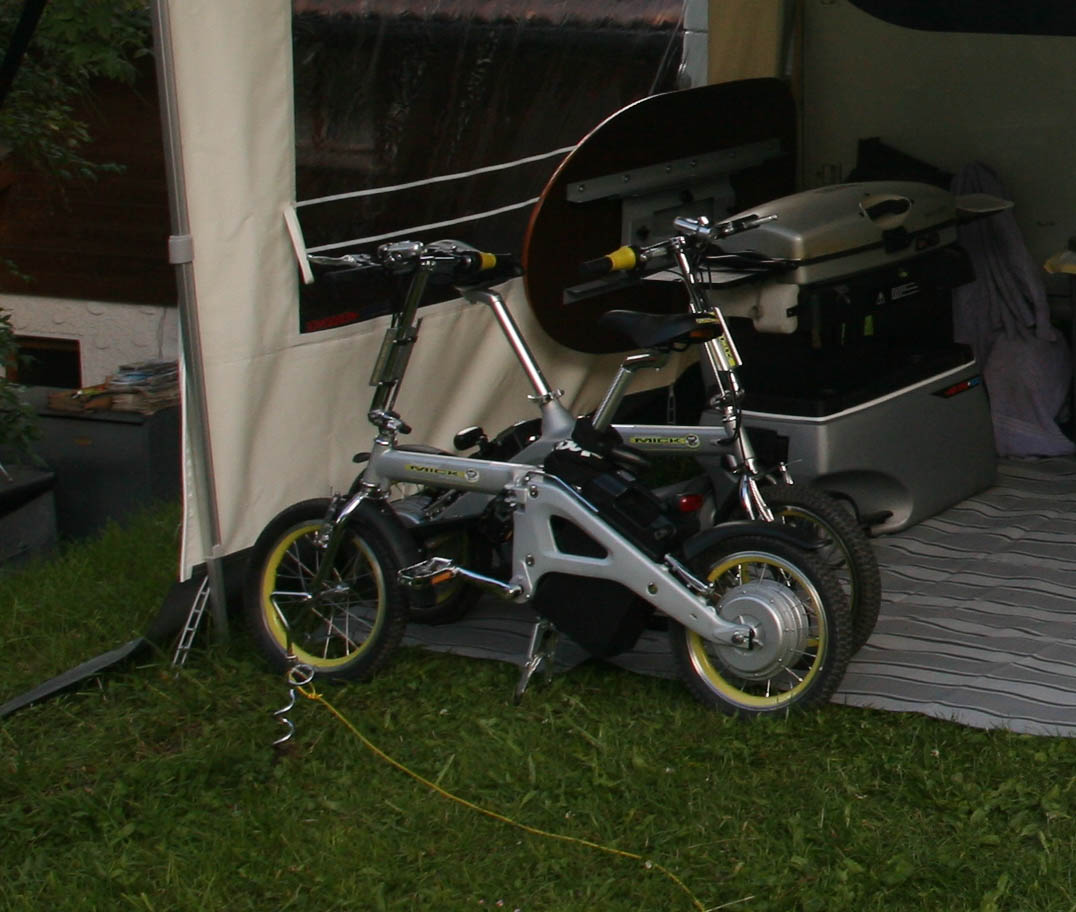 Electric bikes can be a great asset to the camper family but do require careful thought.  We bought to decent electric bikes – a Giant and a Haibike – both served us well and still do however the issue of not always being on EHU and not having the same setup as with the Flair charging is more problematic.  Weight, range and simplicity are much better these days and will suit many folks.
Moving on – after doing some further investigation I discovered that our Flair could carry 250kgs of payload in the garage and we could fit anything inside that was just over 2mtrs in length.   With a door size of 1.4mtrs x 1.2mtrs that gave us the dimensions of our transportation.  Deeper investigation revealed that there were several quad bikes that would fit inside the garage without overloading the camper.
Enter our next form of transportation – a Kymco MXU 300 RL Quad bike.  To ease the effort in getting it inside the garage we fitted an electric winch with a remote control.  This gave us complete control and allowed us to take our time in safety when loading or unloading the quad.   We had a Border Collie at the time who travelled with us always so a folding cage was added for him and hey presto we were mobile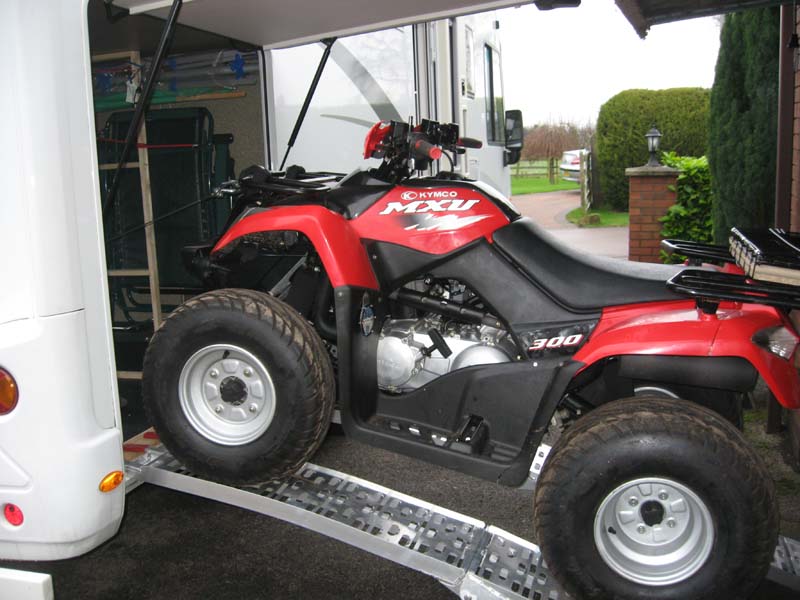 We used the quad for around two years and while it served its purpose we never really went too far afield as its limited performance (top speed 50mph) on main roads made us feel nervous.  We travelled over 800 miles on it so not too bad and our dog Chase really loved it.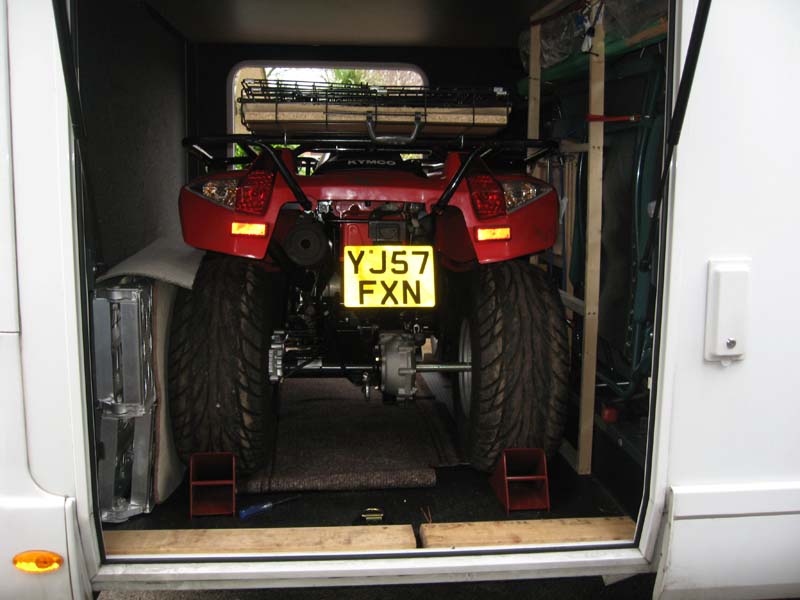 Sadly in 2010 we lost our dog through a mysterious virus.  On re-assessing our needs again one thing was lacking – we either took the quad OR the bicycles not both.  There were times that we wanted to cycle and times we wanted to go a bit further.    Again we looked around and noticed there were several scooters that would fit the bill however stability and safety when travelling in the garage became a concern.  The Piaggio MP3 maxi scooter appeared to fit the bill and would give us the performance we wanted.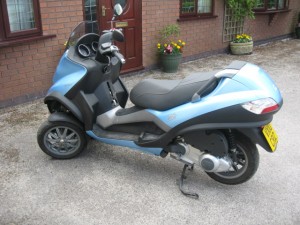 Peggy – Piaggio MP3 – 250cc
This gave us the opportunity to carry the scooter and both bicycles and still remain below our 250kg garage floor limit.  Enter Peggy.   Peggy is a 250cc three wheeled Piaggio MP3 scooter with a much better performance than the quad and much better economy and with 3 wheels gave us the stability to get it in the garage still using our winch and use conventional braces and the Oxford straps for securing it inside the garage.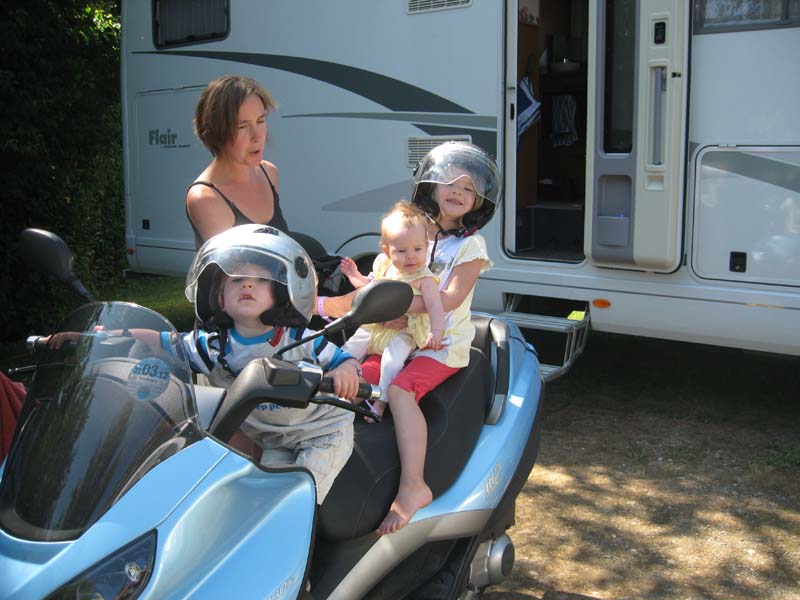 Peggy can carry two up and still hit over 90mph (where permitted) our family just love it as you can see.  We are into our third year now with the scooter and have travelled over 2000 miles.  We restrict ourselves to a radius of around 75 miles and mainly use her for nipping into the next town or staying longer and visiting places around us.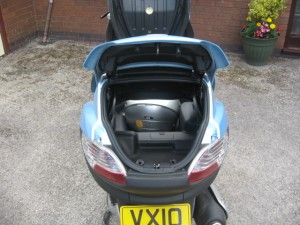 The Piaggio has a pretty large boot ( over 55ltrs) and we use this space for shopping, trips to the laundry or stashing our helmets and wet weather gear.  We incur no additional fees for the tunnel or ferry, it's secure in the garage when we are travelling and only takes a couple of minutes to take out or put away.  I have fitted two D rings in the roof of the garage and two D rings in the floor of the garage.  When we had the Quad I fitted a 2000kg working load electric winch with remote control to help pull it up the ramp and ease it out. This winch works well with the Piaggio and having 3 wheels with a locking suspension device I can just hook up and winch the scooter in same as the quad.  The D rings and straps secure it while we are travelling.
As I mentioned we have enough room in the garage to fit two bicycles, however I do have to remove the pedals and turn the handlebars round 90 degrees.  Its a bit fiddly but well worth the hassle.  This arrangement is our ideal and I can't foresee us changing anytime soon unless we change the Flair.  We use our camper all year round and my only criticism is that it can get very cold in winter.  We don't mind the rain, in fact we don't get wet when riding as the leg shields and windscreen keep us reasonably dry.  But the cold – well that's a killer.  I had thought of buying one of these heated covers and a pair of heated gloves but would want a demo before laying out good money.
I do understand that not everyone has a garage that will take a scooter but there are several rackes that can be fitted on the rear of any camper, including a nifty wheeled rack that has one swivelling wheel to support the weight of a motorbike or scooter.  The idea is good.  The bike still fits across the back of the camper like a bicycle rack so the overall length of the camper is only increased by just over 1 meter.  Because the wheel is on the ground you are not increasing the overall weight of the camper so the payload is hardly affected.  Most of us have plenty of train weight capacity so keeping well within limits and is much cheaper when crossing the channel as many companies have special rates for trailers less than 2 mtrs long.  Sea France, before they went bust, even costed it as a bike rack.
Well things move on and we sold our Flair, briefly reverting to a caravan before we got the calling for another camper van.  As mentioned on other pages here we now have the Hymer Exsis and all the above rationale came back into play and we have bought a Peugeot Metropolis and Arnitage transverse MP3 trailer (which we are in the process of modifying to suite the Peugeot)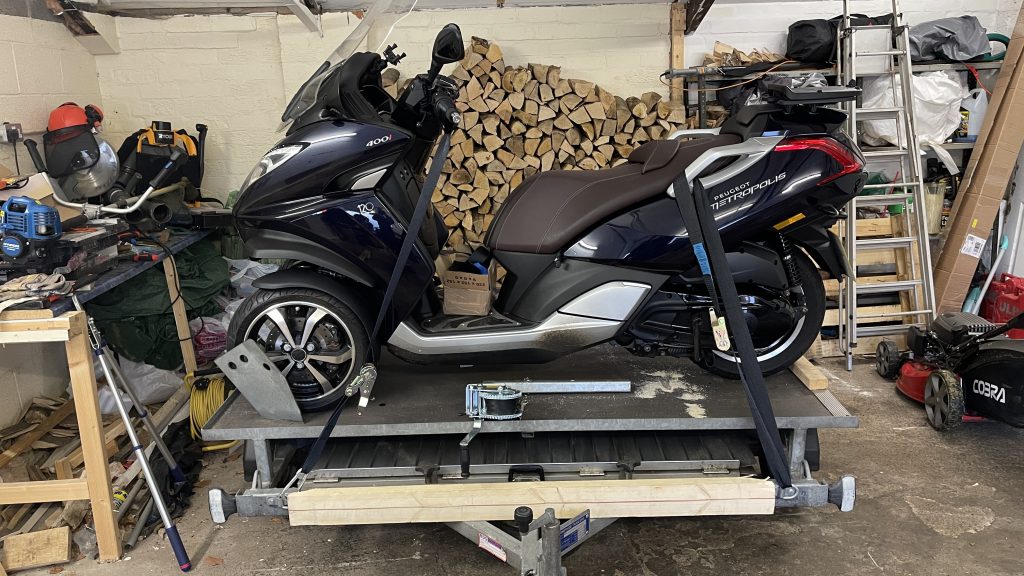 Having collected our trailer I now have to work on how best to modify it to suit our needs.  The first pressing problem is loading the Metropolis as the standard Armitage ramp is too short and the trike "bottoms out" when loading.  Interestingly several MP3 owners have commented on this and I'm surprised that Armitages charge extra for longer ramps (given that they say it has been designed for the MP3)  In the end is was easier than I thought.  Using a simple 2 mtr plank of wood down the centre of the original ramp did the trick
The second problem is that the Metropolis front wheels don't fit into the two retaining scoops on the trailer so I need to cut them down a little.  Again much easier than I thought with an axle grinder. I'm not convinced that the mk 2 Armitage trailer is a good answer.  They have removed the scoops and fitted a rail across the front but I think the scoops would stop the trike from sliding while moving.
The third problem (and this is my problem not that of original design) is that I would like to be able to load and unload the trike when not connected to the motorhome.  This would give me the freedom to manauver the trailer when loaded when at home without running the risk of the trailer tipping over and dumping the trike on the ground.  I intend to do this by fitting a second jockey wheel to the rear of the trailer primarily as a stabiliser but also with the ability to move it around as necessary.  More later.