After much discussion we opted for a ferry crossing from Newhaven to Dieppe with DFDS.  As it turned out it was a shrewd move given all the fuss with P&O ferries.  It was the first trip towing our new Peugeot Metropolis on our Armitage MP3 transverse trailer.  First of all its worth saying that DFDS offer a 20% discount for all travellers over the age of 60 IF you book through their Dieppe office.  In addition DFDS appear to be the only cross channel service that recognise small trailers of 2 metres and under.  So all in all we got a reduction for being over 60 and a small fee for taking our trailer.  Good result.
We packed up and set off on Sunday 19th March with the intention of spending the night at the Newhaven ferry terminal (£5 fee) however as we arrived before the evening sailing we decided to drive a couple of miles to Seaford where you are allowed to park for free on the seafront for up to 12 hours.  In the end we stayed there and had a pleasant walk along the prom after our traditional first meal away of turkey casserole.
We borded the ferry on the Monday morning and surprised to discover the ferry was less than half full, arriving in Dieppe in the afternoon.  We had already decided to spend the night in Dieppe so drove the 2 kms to the Aire on the promenade.  After a lazy start we set off on our first leg to Mery-sur-cher.  Having been there once before we knew what to expect and quickly settled in for the night following a leg stretch walk around the village.  The following morning we set off for our next leg to the hilltown of Cordes-sur-Ciel a place we had visited some 10+ years ago.  We had planned on stopping there for two nights as from memory there is a very good old town with excellent views.  Being keen to make a start we walked up the hill (Le Petitte Train not running) that evening and became excited at the next days prospects.  Sadly this did not live up to expectations and we were disappointed to discover that the whole town was closed for the winter and the cafe's and shops etc. didn't plan on opening until Easter.  We walked back down and returned to the Aire having decided to move on and reach Carcassonne a day earlier.
We unloaded our Scooter and pleased to discover that the porch awning we had for our caravan fitted nicely giving us that bit of extra space when camped up for more than a few days.  Up until this point the weather was pleasantly warm and we were congratulating ourselves on having packed all of our summer clothes.  How wrong that turned out to be.  We met up with the family the following day and spent the next 12 days with the grand children taking them to horse riding, gymnastics.  Sadly the weather turned for the worse and within a couple of days we woke up to a covering of snow, plummeting temperatures and gale force winds.  These conditions stayed with us for the remainder of our trip.  This meant we had little use on the Metropolis and resorted to using our sons Toyota Proace (which was quite conveniend for him having broken two bones in his hand so unable to drive.)  Having spent a very pleasurable time with the family (that included the obligatory couple of DIY jobs) we "de-camped" and set off to revisit the Ils d'Oleron – an island we visited some years earlier.
We broke the journey at Marmande on the Garonne and had a very pleasant over night stop on the old Municipal campsite turned Aire, arriving at Le Chateau d'Oleron the following day.  We had intended to stay for three days at the Aire some 600 mtrs up the coast from the main town however we noticed that the campsite prices were only 50 cents more expensive than the Aire but 500 mtrs closer to town so we stayed on the campsite.  To be fair there is little if any benefit other than being closer to town as the Aire has a toilet/shower block and EHU and hard standings.  It is open all year whereas the municipal site is only open April to Sept and is all grass pitches.  Both are very reasonably priced though at €14 and €14.50
As I mentioned earlier the weather wasn't kind and sadly we had heavy rain and strong winds so with the forecast for the coming days to get even worse we decided that given the forecast of storn Diago we moved on after our three days.  We did manage to dodge the showers and visit the citadel, Boyardville and the capital St Pierre but abandoned our itinerary to move to the west of the island.
So some three days early we moved to a new location on the banks of the Loire to  La Chapell Saint Mesmin – a very nice spot some 5 kms west of Orleans.  Again an abandoned municipal site so EHU, water and service point all for €5 per night (€6 if you only stay one night)  On the first night having driven through storm Diago with its 110km winds we just had to have a leg stretch that evening however some 50 yds from the camper we experienced the heaviest downpour of the trip and were completely soaked taking some three days to dry out.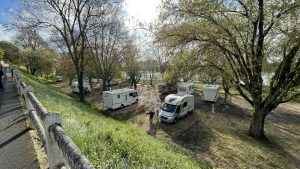 From the Loire we headed back to Dieppe where we spent the last 3 days in glorious sunshine, no wind and warm weather before heading off on the ferry for our return to UK