Over the years we have always called into local laundrettes every couple of weeks to do the washing.   It always worked out ok as we would pop the washing into the machine and go for a coffee or do the shopping until the cycle had completed.  Then we would switch machines and pop the washing into the tumble drier and head off for another coffee.  Job done.  Excluding coffees it would cost us around €8 to €10.  We kept hearing stories about these wonderful portable twin tub washing machines so as we have plenty of storage space we decided to invest in one and try it out.  After all it would make us even more self sufficient.
Our Experiences
We went to our local caravan centre and saw them on offer for £55 so we purchased one there and then.  Six washes and we would be in front.   We did a "dry run" at home before setting off on our annual winter trip.  All seemed well, the machine did its thing, not too noisy, vibration under control and simple to use.  We packed the washer into the camper locker and set off for Dover.  We had reached Spain before we decided we needed to do a washing cycle and on a fine bright morning I got out the washer and placed it on our folding table.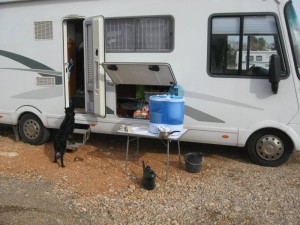 Our Washing Machine
We went through the two cycles twice (washing and spinning for coloureds and whites) and all went well apart from the washer nearly vibrating off the table once or twice.  The clothes came up clean enough though the spinner could have been better.  All in all the operation took all morning.   That was almost two years ago.  Since then we haven't bothered using it.  For us the reality was it was just too much trouble and we liked the idea of having a coffee or doing the shopping while the washing cycle went through.  When the spin cycle had finished we still had to dry the clothes and in winter this  wasn't always practical.   We didn't even carry it with us in the end so sold it on Ebay
Pros
It does make you more self sufficient and it does give you the flexibility to pop a load in as and when so if wardrobe space is an issue but you have room in a garage or large locker then you can cut down on smalls, T-shirts, bedding etc. and recycle more often.
Cons
It does take a fair amount of water so you need to be near to a fresh water supply.  It also needs warm or hot water to make a good job and this takes gas – something that might be in limited supply if you use Calor propane bottles and not LPG.   The spinner will only remove the excess water and doesn't spin clothes to the same extent as a home domestic spinner.  This means that in winter you have a bigger problem of drying all the clothes so even in fine weather they may need to be hung out all day.   If not then they are drapped all over the inside of the camper and tend to fog things up, not to mention making the place look untidy.
Verdict
I think the last line of our experience chapter sums it up – we don't use it.  We prefer to use the Hyper-U Laveries and do the shopping while the clothes are washed and then drink coffee while they are tumbled dried.  When finished the clothes can go back in the lockers/wardrobes all snuff dry.   Maybe it would be easier in summer but certainly in our limited experience winter has its drawbacks.
Update:  On our winter 2012 trip we struggled for 5 weeks trying to get a supply of water as most of the sites, Aires etc. had turned off the water supply.  We had to survive on limited water – certainly not enough to use for washing and in any case with minus 12 temperatures it would have taken for ever to dry……