In late June we went to the Cotswolds en-route to meet the family who were travelling up from France.  This was a long delayed meeting that was to have taken place during COVID but like so many plans it had to be shelved.  We decided to extend the break with a stopover at the CC site at Burford in the Cotswolds before heading to Somerset to meet up with the family.
We spent 4 days on the Caravan Club site meeting up with our long standing friends from Lewes, Chris and Dave.  While we enjoyed the stay we were not blessed with good weather.  It rained, the wind blew and it wasn't that warm.  On the good side the wine was very welcome.  We have visited Burford one or two times in the past so vaguely remember the area.  We tope our trusty Peugeot Metropolis so we could get around however it wasn't much fun in the rain.  Still the company was good and made up for the bad weather and we kept our fingers crossed that there would be an improvement when we joined the family.
We left Burford on the Saturday morning and arrived at the Caravan Club CL by lunchtime.  The CL was very pleasant in what may have been an orchard on a farm and some 1500 yds from the cottage our family had rented.  We quickly set up, had lunch and walked over to Lympsham to the cottage.  It was great to see them.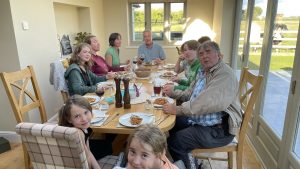 I know it's selfish but with around twelve of us all wanting to entertain the family it is difficult to get them to yourself.  Still we had a great time and although on the cool side we didn'y have any rain.  Had a couple of decent BBQ's and loved being with the family.  Roll on the next time we will see them – probably Christmas