France here we come – left home on 5th September and headed for Newhaven, taking the night crossing to Dieppe.  Sad in some ways as in the past we have taken the morning crossing and stayed the night on one of the Aires in Dieppe but this time having the caravan we needed to find a campsite and as there are non in the immediate Dieppe area we didn't want to run the risk of being stuck on the roadside overnight.
The crossing was smooth and we landed at Dieppe around 5am.  Once clear of immigration we sneaked into the DFDS waiting area and had a couple of hours sleep and breakfast before setting off to our first stop at Ceaux near Mt St Michel.  Not a bad site for an overnight stop and this was clear from the number of folks that poured in that evening and were gone the next morning.  After breakfast we left Ceaux on our way to Conleau where we stayed for the next two weeks.
Camping Flower at Conleau is a great site in all respects – price, facilities and location.  Having stayed there on a couple of occasions over the years we are fully aware of the places to see and visit.  On arrival we were met by our friends Chris and Dave (not forgetting Bertie the dog) who had been at Conleau for the previous week and were staying for another week.  It was nice to have our evening meal cooked for us.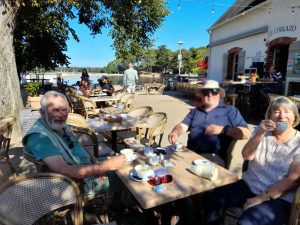 The weather at Conleau was excellent in fact a tad too hot for us which lead to us doing a little more lounging about than we had intended.  After Chris and Dave had moved on we decided to visit our long time friends in Plemet – Barry and Ann.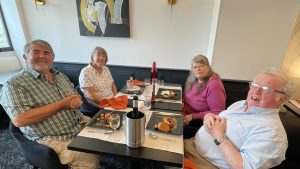 They moved to France some 20 years ago and are very settled.  We went out for a meal (even though Barry is a very accomplished chef) and had a very pleasant day catching up.
While at Conleau we also explored new areas, including Ile-aux-Moines and sampled the oysters while on a walk around the island.  Vannes was hosting a medieval pageant and while we saw the procession we did miss the jousting event.
From Conleau we made our way to the Ile Noirmoutier – a new to us place so we can now tick off visiting all three of the main islands on the West Coast.  We stayed at the municipal campsite – Point de L'Herbaudière and were allocated a pitch right on the peninsula with excellent views out to sea and across to Ile du Piller with gorgeous sunsets.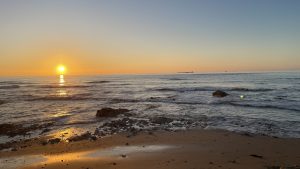 Even though the weather was still very hot (mid to high 20c) we managed to fit in some really good walks.  Excellent location with shops, restaurants, Boulangerie etc. all within 300 mtrs.  Good walks along coastal footpaths.
From Noirmoutier we travelled further south to Ile de Re to spend our last week before heading back north.  We were very lucky in that our family decided to join us for our last weekend.  We stayed at the camping municipal at St Martins, which was one of the very few sites still open to caravans and also offered static van accommodation so the family could stay near to us.  Lots of seafood and BBQ's followed by a final farewell lunch before everyone parted for their trips back home.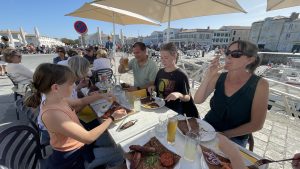 We set off the following morning stopping for the night at La Fleche, just south of Le Man before heading on to Dieppe for our crossing to Newhaven.  We left Dieppe with a temperature in the mid 20's and clear blue skies to arrive in Newhaven with driving rain and a miserable 12c.  It rained all the way home but we didn't really mind having had 5 weeks of solid sunshine.
It was so refreshing to be able to pitch up and place your caravan or motorhome anywhere you liked without having to worry about the jobsworths insisting on "centre pegs" and having to all face the same way.  Oddly enough with temperatures in the lower 30's centigrade there were no issues with fire risks and many sites had extinguishers dotted around.  Prices on average less than half those of the Caravan and Motorhome Club and most had full facilities including bars, restaurants and swimming pools.