We planned a trip to Northern France earlier this year as we wanted to return to see more of the Gulf de Morbian.  We had visited this area many years ago when passing through following our holiday on the Ile de Re.
We used the Newhaven to Dieppe DFDS crossing and by booking at Dieppe we qualified for the 20% OAP discount.  We started out by leaving on the Monday afternoon, 12th September and driving down to Newhaven and having a few hours on the seafront at Seaford we settled down on the DFDS carpark ready for our 10am ferry to Dieppe.  The ferry arrived on time at Dieppe where we were surprised to discover that there was an International Kite Festival in progress with literally dozens of kites being flown all along the seafront.  One event that was spectacular was the synchronised kite dislay done to music – very impressive.  We intended to spend the night at Dieppe on the Aire near the end of the promenade but were not surprised to discover it was full so moved over to the opposite side of the harbour entrance to the "sister Aire" nearer the ferry terminal.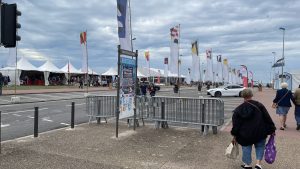 On the Wednesday morning we set off for our next overnight stop at Dinan, using the free Aire under the bridge, arriving mid afternoon.  There was plenty of room but surprised how busy it was for a mid September, mid week.  We had a good look around Dinan trying to remember places we visited many years ago however other than the churchyard our memory banks were blank.  In the evening were wandered along to the Port of Dinan and had a lovely meal at the Les Terrasses restaurant partaking of one of the best moules frites and Oysters I have ever had.  Annette had a very large Goats Cheese salad – all washed down with a bottle of wine.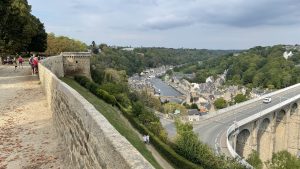 Thursday morning saw us off to a leisurely start, having nipped out for a coffee and crossant and baguette ready for lunch.  Having less than one hundred miles to travel we didn't want to arrive at our next stop too early.  Our base was to be Conleau having been some years earlier.  That time we stayed for a few days at the Flower Camping Conleau so decided this would be a good place to start.  As it turned out this was an excellent move on our part for a number of reasons.  Normally we don't book campsites in advance as we never know where we will end up.  This time however we looked up the site to see what the prices and opening times were as in the North of France closing dates start from mid September with many or most closed before the end of October.  Camping Flower closed 2nd October.  Surprisingly they had a "special offer" on where if you booked 7 days you got the 7th day free.  In addition they offered prices on par with and below the ACSI listed prices.  This worked out extremely well as we ended up staying 17 nights (a record for us) at the princely sum of €13 per night (or in real money £11.20)  This for a site with swiming pool (indoor and outdoor), restaurant, bar and take away, together with 16amp EHU.  There are three toilet blocks (one heated), laundry room and a bus stop outside the front gate.  You are some 30 mtrs from the beach (you have to walk a little further for sand)  The area has a lot to offer with islands gallore, numerous walking and cycling trails and only 4 kms walk or ride into Vannes.
We had remembered from our previous visit the pleasant walk around the Conleau peninsular and this time our memory cells didn't dissappoint.  In fact we walked around the peninsular every evening we were there.  Many folks say weather doesn't influence a holiday but we think it does so on this occasion we had absolutely superb weather the whole time we were away.
Camping Conleau closed on the 2nd October so as they were closing down we left on the 30th and moved on to the Aire on the Quiberon peninsular.  This was little disappointing as we had to pay €18 per night only to discover that the following day it became free until May 2023.  The coastal walk is excellent however even though our second night would have been free we decided to move on the following day to Gavre just a few kms up the coast.  Here we stayed 3 nights on the old municipal campsite some 50 mtrs from the shoreline.  A very pleasant spot with lots of walking paths around yet another peninsular with one or two restaurants, bars and cafe's open.  Our one disappointment was the local Spar shop was closed for stock taking but that didn't effect us as we had stocked up at the supermarket on the way.
From Gavre we moved back towards Dieppe staying once again on the Aire at Dinan and once again simply had to check that the meal we had on our outward journey was for real.  Yes it was so another moule frite – this time for two.  From here we moved to St Malo and had 3 very pleasant days roaming around the old town.  We even spent an hour watching tourists running the gauntlet trying to beat the tide coming in and washing over the causway.
From St Malo we went to another old favourite – Honfleur and again surprised that after many years they have started to improve the facilities on the Aire – barrier gate, more EHU – just hope this includes a better service point.  Honfleur is always a hive of activity – even in winter and while the restaurant prices have risen they were still quite reasonable.
From Honfleur we moved to Etretat – a new stop for us and while the campsite and Aire are quite a way out of town it was still pleasant.  We did find the municipal prices above average price for such limited facilities but decided that the €4 difference between that and the co-located Aire was worth the price given that the campsite had toilets, showers and EHU
From Etretat we made our way back to Dieppe and became increasingly worried as all the fuel stations on the way were out of fuel due to the refinery workers strikes.  We eventually were able to fill up at an Auchen supermarket after queueing for hours though no LPG.
An excellent trip, no issues with the Hymer, really impressed with the Allpowers battery bank and as mentioned excellent weather.