After a period of 7 years we have returned to another Motorhome – this time a Hymer Exsis i 698. Its a 2013 model with island bed and only covered 16K miles. It has all the extras we need (bar one) and while this is our first motorhome that hasn't got a full garage it does have a "small garage" so everything except the bikes fits inside. The bikes however have to live on the bike rack at the rear.
We had our first outing in the Exsis this week (14th June 21) and have to say we were extremely delighted. Everything worked as it should and the layout is exactly what we wanted. It felt great to get behind the wheel and feel king of the road again – even the economy surprised us.
There is obviously not so much storage space in the Exsis and the worst part is that the overhead lockers are just not quite deep enough.  Had they been just a couple of inches taller it would have been perfect.  Still we can't have everything.  It's clear that this is a more modern campervan and that is reflected in the way the equipment works from the Auto switching fridge freezer to the larger toilet cassette.  Very impressed with the Maxview WIFI system including the sim card from Three – they give you 24gb for 24 months for a one-off cost of £42.  Much cheaper than any of the other mobile providors and without a contract.  EE wanted £9.50 per month on a 24 month contract for up to 2gb per month.  The main problem with contracts is that there will be times when you don't use the camper for a month or two but you still have to pay the rental.  Anyway once inserted and the pasword entered the WIFI reception was excellent – even in an area where mobile phone reception was poor.  Its an expensive option at around £300 given that your smartphone works as well but great for laptops, tablets and kindles.
I've mentioned the Battery Bank in the equipment section and this is proving an excellent choice and gives us the flexibility to use CL's or Britstop sites without EHU and still get our daily ration of coffee.  This proved very useful on our 6 week trip to France in September – October where in real life use we can go up to 6 days without EHU and using all our normal appliances – coffee machine, toaster and daily charging of phones/tablets/watches.
We have used our Hymer on several UK short breaks in addition to our trip to France and we came to the conclusion that, particularly in UK, there is a need for transportation (other than bicycles) as most CC or CANDCC sites are several miles away from towns etc.  Our Hymer is too large to drive into towns or tourist attractions (even excluding height barrier car parks) so using it as a mode of transport while on short breaks is not something we want to do.  We have now purchased a secondhand Peugeot Metropolis trike (cheaper than Piaggio MP3) and after reviewing trailers have gone for a used Armitage transverse MP3 trailer.  This needed a little modification to accomodate the Metropolis due to the lower ground clearance.  The trailer is only 1.8mtrs long so in reality looks more like a bike rack than a trailer.  We have yet to try this out so watch this space.  The Metropolis on the other hand is a big step up for our old MP3.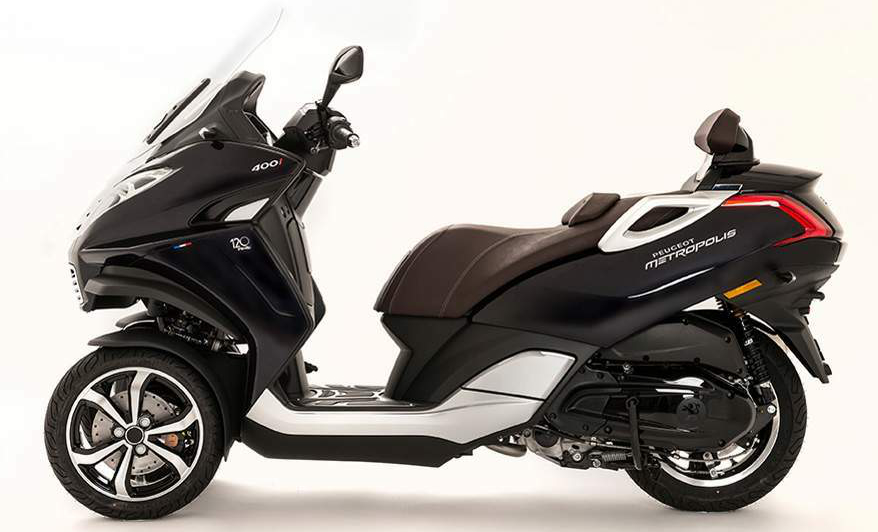 Our Metropolis is similar to the one above and is the 120 year special eddition of which only 120 were made and at 400 cc is much more powerful than the 250cc MP3 and while a few kgs heavier it is reported to be more economical.  It rides pretty much the same as the MP3 and takes a mile or two to get the hang of the parabolic front wheels.