GPS Position:  North 49.30582538 East 01.157469749
Just south of Rouen Aire by river with room for 12+ . Not the greatest of places as their was a few "travellers" when we visited in Sept 2012, hard standing on tacmac. Service point some 100 mtrs away next to Municipal Campsite.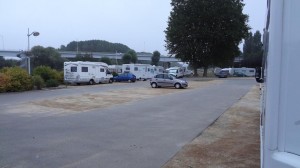 Attractions Nearby:  Plenty of new signposts as you enter the village. Also just 50mtrs away is the municipal site and there is a brand new motorhome service point. Lovely small village to walk around. Bakers etc all close by. Great location on the North – South run
Cost per 24hrs:        Free.  Services by Jeton from camp site.